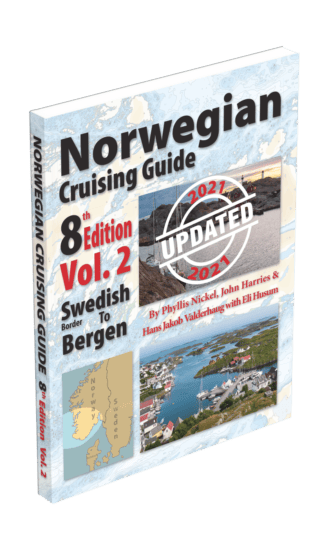 We just published a huge update to Volume 2: Norway, from the Swedish Border to Bergen, including:
36 New harbours
123 Updated harbours
273 New photographs
82 Large-scale harbour charts (new feature)
74 new pages
We have removed the West Coast of Sweden chapter from this volume because:
It was a legacy from the 1986 1st Edition of the Norwegian Cruising Guide when there were no English-language guides to the Swedish coast. That is no longer the case.
Our information was getting out-of-date with no plans to sail in Sweden anytime soon.
Having a chapter on Sweden in a guide to Norway doesn't make sense.
eBooks

Updated ebooks on Apple iTunes and Google Play are immediately available for purchase.
And, best of all, if you already own the ebook on either platform, it will automatically update for free the next time you load it.
Paper Books
Updated paper books are being printed and should be available at Amazon in a few weeks. Sorry we can't be more specific, but Jeff Bezos is busy getting ready to blast off and is not taking our calls.
Seriously, it's hard to know for sure how long Amazon will take to get the new updated version in stock, but in the meantime our friends at Datema Amsterdam will be taking orders shortly and will have books ready to ship by early July.
Either way, be sure not to buy the old version by accident. It's easy to tell the difference since the new one has an Updated stamp right on the cover.